DevvStream Announces Carbon Credit Management MOU for up to 8.3 Million Hectares of Amazon Rainforest Land in Bolivia
Innovative carbon credit conservation project is expected to generate carbon credits utilizing a novel technology-driven methodology currently in development
VANCOUVER, BC, July 20, 2023 — DevvStream Holdings Inc. (CBOE:DESG) (OTCQB: DSTRF) (FSE: CQ0) ("DevvStream" or the "Company") a leading carbon credit project development and generation firm specializing in technology solutions, today announced a memorandum of understanding (MOU) with Bluegrace Energy ("Bluegrace") establishing DevvStream as the exclusive carbon credit manager for an 8.3-million-hectare Amazon rainforest protection project in Bolivia. Under the terms of the MOU, DevvStream will provide carbon credit management services and will receive a portion of any resulting credits.
Forest-based carbon credit projects typically utilize the REDD+ framework, which establishes a methodology for carbon credit generation resulting from the avoidance of deforestation. However, projects that rely on REDD+ occasionally struggle to meet the standards outlined in the Core Carbon Principles, including additionality, permanence and baseline measurement procedures(1). As a result, the Company plans to design the project around an alternative methodology, one that relies on technologies such as artificial intelligence, machine learning, and computer/satellite imaging to capture more precise data, ensuring accurate quantification of carbon credits. In addition to land preservation, the overall project's goals include providing financial resources for the implementation of social initiatives and humanitarian activities that benefit indigenous communities living within the territories. These initiatives include infrastructure, education, water treatment, health care, and transportation.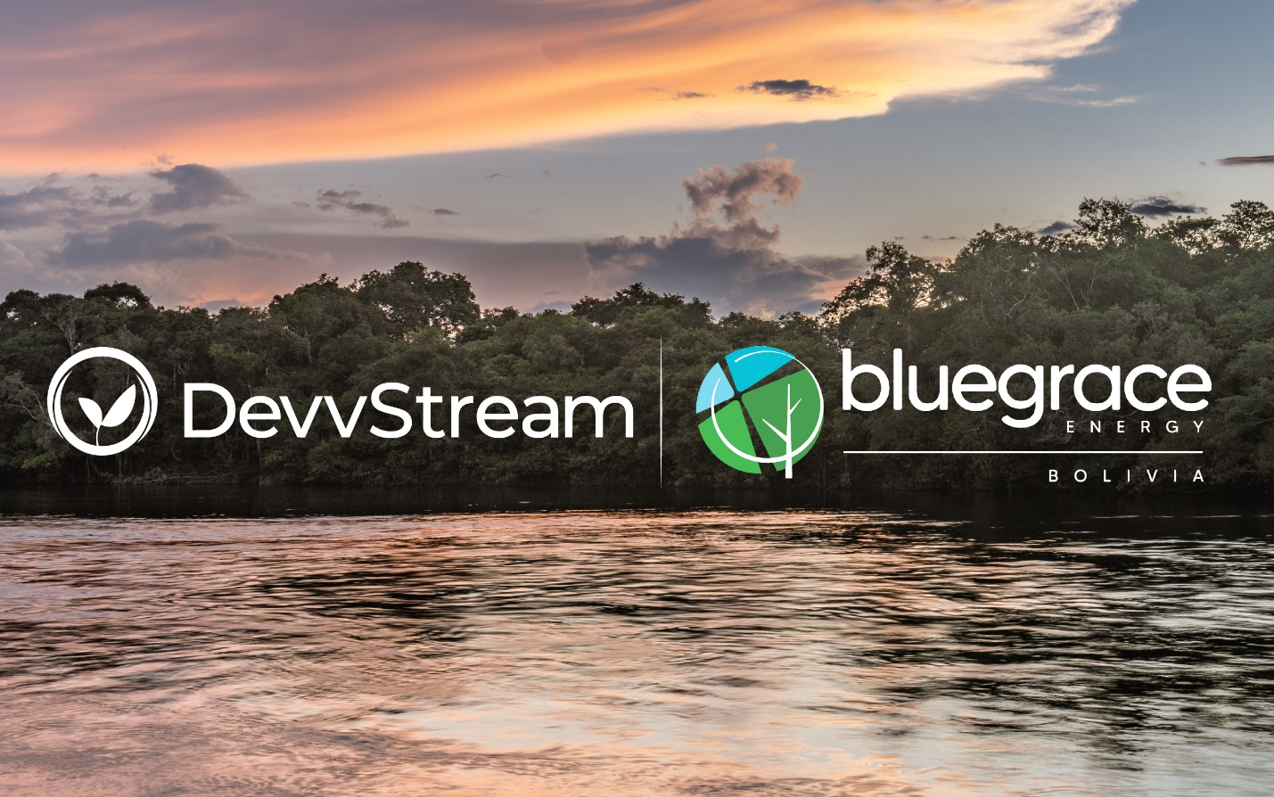 "Protecting rainforest land is vital to the sustainability of our planet," said Sunny Trinh, CEO of DevvStream. "Although technology and nature are often viewed as being in conflict, technology can play an important role in nature preservation. Through the use of machine learning, AI, blockchain, and advanced imaging techniques, we will be able to help protect millions of hectares of land while ensuring that the resulting carbon credits adhere to Core Carbon Principles surrounding governance, emissions impact, and sustainable development. We're proud to work alongside Bluegrace to make this essential project a reality."
"We understood from the beginning that finding a carbon credit company we could trust to operate with integrity, expertise, and transparency would be a key contributor to the project's success," said Julio Montenegro, CEO of Bluegrace Bolivia. "Bluegrace is pleased to partner with DevvStream to preserve these critical regions while advancing social initiatives and humanitarian activities that benefit the indigenous communities who call the forests home."
About Bluegrace Energy
Bluegrace energy is an association of experts and professionals from around the world with years of experience in the energy sector, with the common goal of making a valuable contribution to the global energy transition towards a net zero future. Witnessing the alarming effects of climate change and the challenges facing societies on their path towards sustainability, we conceived Bluegrace Energy Bolivia SRL as a platform from which we could coordinate our efforts in our mission. Our experts stand out in both clean and renewable energy and have decades of experience leading innovative projects in the field of energy transition towards a model "fit for the challenges of the 21st century". At Bluegrace, we adhere to the common principles of professional expertise, the highest integrity, and creating real value in both business and society. Visit https://bluegracebolivia.com for more information.
About DevvStream
DevvStream is a technology-based ESG company that advances the development and monetization of environmental assets, with an initial focus on carbon markets. DevvStream works with governments and corporations worldwide to achieve their sustainability goals through the implementation of curated green technology projects that generate renewable energy, improve energy efficiencies, eliminate or reduce emissions, and sequester carbon directly from the air—creating carbon credits in the process.
On Behalf of the Board of Directors,
Sunny Trinh, CEO
For further information please contact:
Focus Communications
Tel: +1 647 689 6041
Email: info@fcir.ca
Disclaimer
This news release contains forward-looking statements, including statements that are not historical facts. All statements other than statements of historical fact included in this release are forward-looking statements. The reader is cautioned that assumptions used in the preparation of any forward-looking information may prove to be incorrect. Events or circumstances may cause actual results to differ materially from those predicted, as a result of numerous known and unknown risks, uncertainties, and other factors, many of which are beyond the control of the Company, and which are described in the Company's public filings available under its profile at www.sedar.com. The reader is cautioned not to place undue reliance on any forward-looking information. Forward-looking statements contained in this news release are expressly qualified by this cautionary statement. The forward-looking statements contained in this news release are made as of the date of this news release and the Company does not intend to update any of the included forward-looking statements except as required by Canadian securities laws.
Resources: